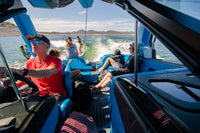 Wakesurfing is for everyone
Whether you are an avid water skier or wakeboarder, or brand new to the world of water sports, Wake Surfing could be your next exciting challenge. Wake Surfing is an up and coming water sport that has become increasingly popular with innovations to larger wakeboard boats.
Wake Surfing requires no previous surfing experience and is safe, easy, and a fun way for those of all ages to enjoy a day on the lake. With the expertise from our instructors we will have you up on the board and surfing in no time!
Book a Lesson
The Wave
We don't drive to the beach to catch a wave, we create our own endless wave right here at any of the beautiful lakes in Arizona. We are the only wake surf school offering lessons on the Nautique G23 Paragon, which can create a surf wake that extends as far as 25 feet behind the boat. 
This wake will allow even the heaviest riders to surf without the use of a rope. No longer will you need to pack up the car and drive for hours to a crowded beach and fight for a spot in the lineup.
Experience the Wave
Phoenix Area - Lessons for all skill levels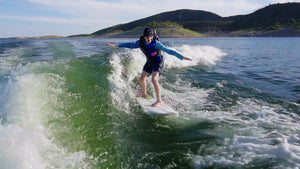 Beginner
The rider will learn the "Wake Surfing start" using the rope in order to get to a standing position on the board. From there, the rider will learn proper surf stance and good form. The goal will be to use proper technique to maintain the pocket in order to drop the rope and then free surf behind the boat.  The rider will then be introduced to basic tricks such as carving turns, balance maneuvers, floaters, and ollies.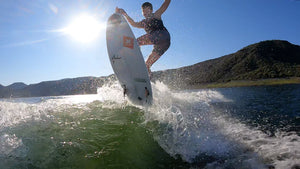 Intermediate
Riders who already have the skill to surf without the rope will learn some more advanced maneuvers in order to enhance their Wake Surfing experience.  This skill set will include tricks such as bottom turns, slashes, board slides, ollies and airs, and 360s.  The rider will also be introduced to switch riding, backside riding, and surf side transfers. 
Advanced
Riders will be encouraged to try more advanced, pro level maneuvers, and combination of maneuvers. Those who are already proficient at switch stance riding will be introduced to tricks such as alley oop, air 360, air 180, and air reverse.  Riders will also be introduced to body varials and shuv-its.
Your Instructors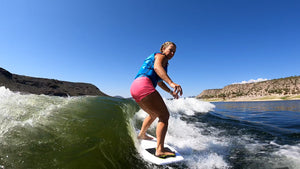 Mike and Angie Viland are self-taught Wake Surfers, picking up the sport in 2009.  They started teaching local enthusiasts how to Wake Surf in 2010 and legitimized their teaching methods by opening their Wake Surf school in 2012.  Since then, they have taught lessons, participated in clinics, and coached competitive Wake Surfing to riders from all over the world.
They have been competing in the sport since 2010 and both have had much success over the years.  Mike is a Master's division rider and has claimed 2 world titles, 3 US National titles, and was voted 2016 CWSA's Wake Surfing Person of the Year.  Angie is a Pro rider and has earned top 5 World Ranking finishes for four years running.  She also was voted CWSA's Wake Surfing Person of the Year for 2020 and has won the CWSA's award for Best Trick of the Year by a female rider.
Mike and Angie are very passionate about Wake Surfing and they bring their enthusiasm and personal attention to everyone they teach.  Their goal is to spread the stoke for the sport they love and provide a complete Wake Surfing experience for all.
What our students are saying
Want to learn from some of the best in the business! Whether you're a beginner or working on advanced tricks, Angie and Mike are the real deal!

Sarah B., Beginner
Great instruction for beginners and intermediate skill levels. My wife is just getting started and an hour lesion took months off her ramp, I've been surfing a lot longer and an hour provided numerous tips that will save me months of practice.

Taylor B., Intermediate
Had a great time today out on the water with Mike and Angie. Great advice and tips on tricks. Nothing but smiles leaving the lake, we'll be back!

Steven B., Beginner
Our Sponsors